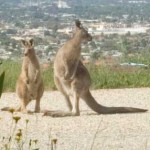 These two are "regulars", but not usually seen this time of day – 10:00am. Often on dusk or especially early morning they come in to graze on the grass around the house, probably as it's regularly cut so there's lots of fresh new growth, and it's often greener than the paddock.
These two usually keep to themselves, perhaps while the joey is still young. They're not often seen when the bigger mob is around. Being wild kangaroos they and the mob are all very wary of humans and always beat a hasty retreat, when they notice human presence – usually before I can grab my camera.
Late evening we've seen mobs of 'roos numbering 30 or more, and often see evidence of their trails, footprints and signs of them having been grazing around the front of the house.