Recreated from the original 1999 film images rescanned, with text taken from the original 1999 article. High resolution panorama enhanced and recreated with current 2011 technologies.
The Spirit of the South Pacific, Goodyear Blimp
Just where DO you park a 40 metre airship filled with 69,000 cubic feet of Helium?
The nimble and highly manoeuvrable Goodyear Blimp "Spirit of the South Pacific" visited Albury Australia as part of the 1999 "Festival of Learning" campaign, delighting on-lookers, school children and the media with its aerial display.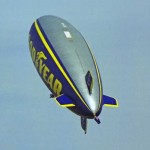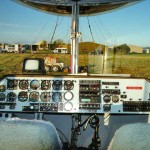 It's overnight stop in was at Holbrook, NSW, and provided the opportunity to take some close shots both inside and out.
A crew of 15 or so accompanies the Airship and it's pilots on their journey, mainly composed of ground support – PR reps, technicians and mechanics. The Airship gondola can carry up to 4 passengers and a pilot.
To tether an Airship, first you have to catch it.
Two ropes hanging from the nose cone are snared by the ground crew. Once the gondola is low enough to grab by the rail attached to the base, the craft can be easily moved around by the ground crew to enable passengers to board or disembark, and for tethering purposes.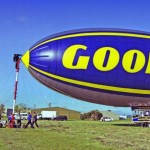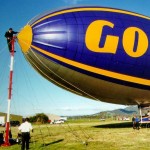 To secure the Airship overnight when away from it's home base, the ground support carries with them their own tethering tower, generator and security lighting. The airship must be supervised around the clock and the crew take shifts, fitting in routine maintenance during these quiet times.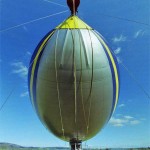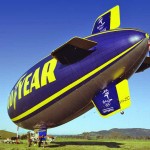 Helium is a very slippery gas – over time it will pass through the very walls of the airship balloon. The support crew carries Helium supplies with them to keep the Airship at optimum operating capacity. The volume of gas also has to be adjusted on a regular basis to allow for ambient temperatures. Too cool and more gas is required to get the airship airborne. Too hot and gas must be released for the balloon to return to or remain at ground level.
Come aboard and get a peek inside this beautiful Lady of the Air with a full spherical 360 degree panorama.
Goodyear Airship - 1999