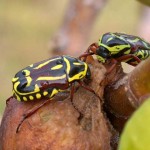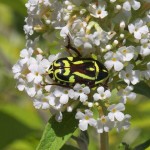 The striking Fiddler Beetle has been a regular visitor over the past few years, ever since our flowers started blooming in our slowly establishing "garden". Actually, it's more of a half-garden half-weedbed, but when you refuse to use herbicides and are in the middle of a drought with water restrictions it's hard to get competition for the weeds going.
This year however must be the Year of the Fiddler Beetle – they are here en-mass gorging themselves on the figs (click on any photo to enlarge).
The weather has been confusing for the trees – a lot of early spring rain and a dry but unusually cool summer. Some fruit trees stopped growing after the second summer cold spell, one peach even looked like it wanted to turn autumn colours – at Christmas!
The figs had a good start to their season, but after a couple of cold spells and one hot, dry and windy day many lost most if not all of their leaves and fruit development all but stopped. The remaining figs are ripening, although they are generally much smaller than usual.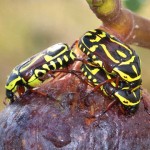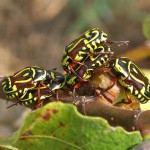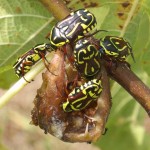 This has been a bonus for the local crows, and now the Fiddler Bettles. Over-ripe fruit, dripping with nectar, and generally too small to be worth preserving are being carried off by fat, hungry crows and invaded by ants and beetles.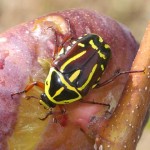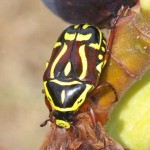 The Fiddler Beetle (Eupoecila australasiae) is named for the striking violin shaped markings on its back. It is harmless, feeding on nectar from flowering plants. It lays eggs in rotting wood or damp ground, where the grubs develop feeding on the rotting wood.
More information:
http://australianmuseum.net.au/Fiddler-Beetle
http://museumvictoria.com.au/discoverycentre/discovery-centre-news/2007-archive/fiddler-beetles/