A rainbow baby is a baby born shortly after the loss of a previous baby due to miscarriage, stillbirth or death in infancy. This term is given because a rainbow typically follows a storm, giving hope of what's to come.
The choice to have a family is something most of us take for granted. But for many is it a long and difficult journey often filled with disappointment and loss.
Late in 2018 a young couple close to us had their "Rainbow Baby". This gave me cause to reflect on the number of people I have known over the years who have had to take that journey.
Some, despite everything medical science can offer, were unsuccessful. Others succeeded after giving up all hope. Some just kept trying.
And sometimes, a Rainbow Baby is born.
Materials & Prep
The Rainbow Cloud
The lustrous cloud of locks are hand dyed from one of my own English Leicester sheep, 2018 shearing.
Several batches of natural locks were scoured, dried, and sorted.
The better formed and most lustrous locks were selected for hand dyeing to make the rainbow cloud. Another batch of high lustre locks were set aside for the inner white cloud. Fleece that didn't quite have the right locking structure was carded, some being needle felted to form the cloud bases, and some set aside for the sculpture.

The best locks were pot dyed using only primary acid dyes – red, blue and yellow – carefully measured and applied to produce soft, blended pastels.
The rainbow cloud was needle felted to completely cover it's white base, and the inner cloud needle felted around the edges of it's base.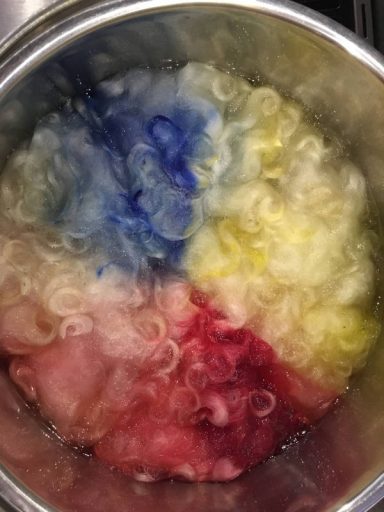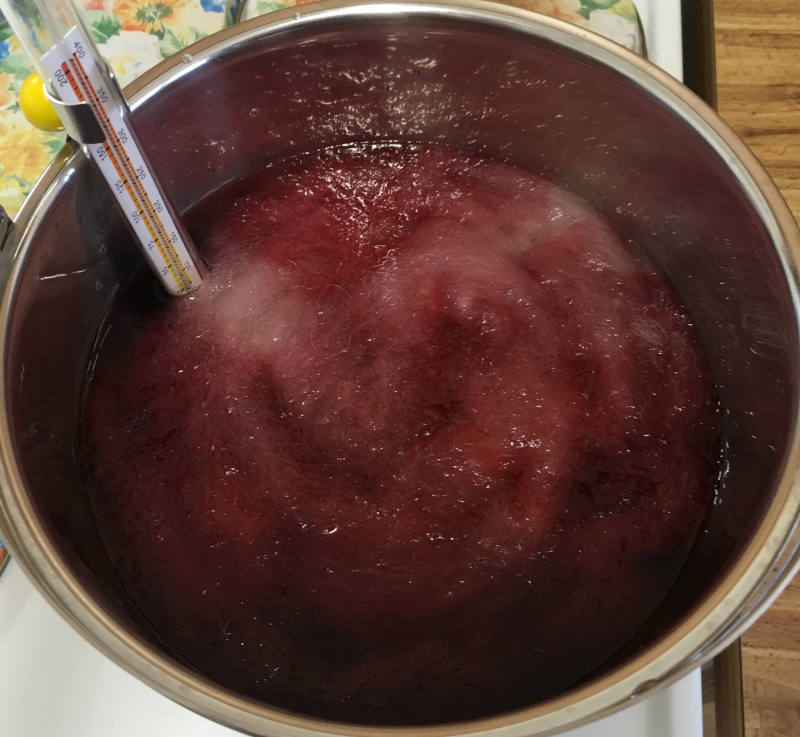 Techniques
The Baby
To create the baby form, a wire armature was designed around real life measurements and proportions. The finished form is partly posable, bending only at the right places thanks to short lengths of rigid fencing wire attached to the pliable aluminium armature between the "joints".
As the prepared fleece and wire when weighed fell way short of a real baby's birth weight, the armature was weighted throughout with fine glass beads.
The core wrapping and base needle felting for the sculpture is carded natural white English Leicester, while the muscle layer, which helped to define the arms and legs and is based on real human baby anatomy references, and is the dyed English Leicester from the dye pot above.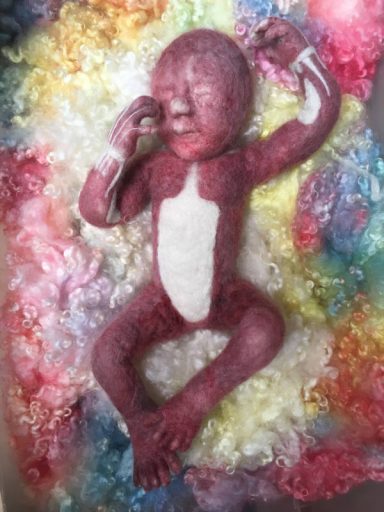 The skin is hand dyed white suri alpaca while the hair is natural rose grey alpaca.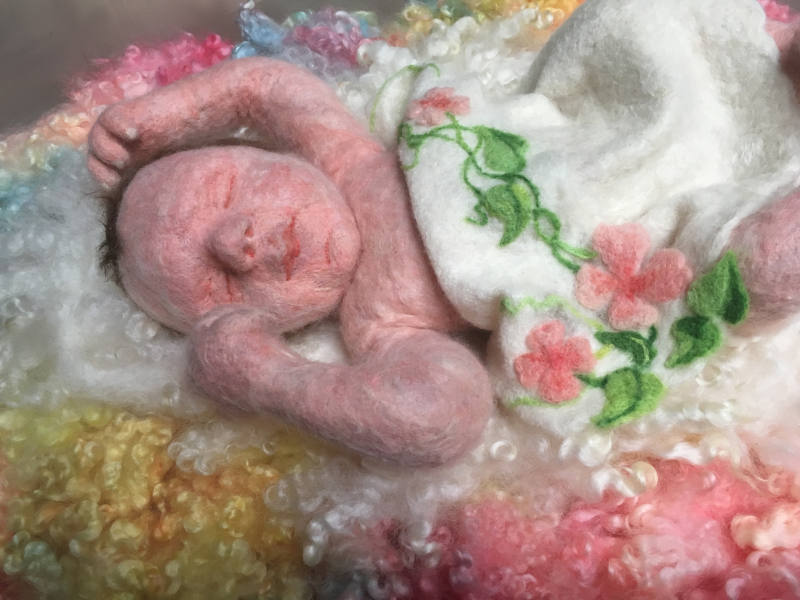 The nappy and blanket are needle felted pure suri alpaca. Natural white felt decorated with hand dyed heart shaped petals and leaves with a trailing vine linking them all together.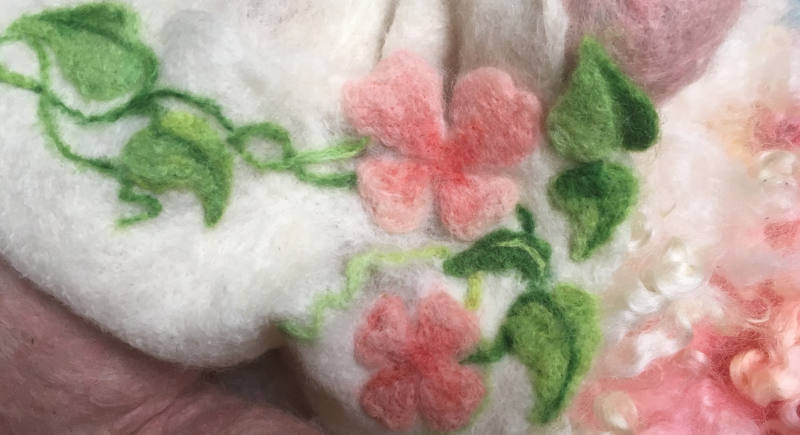 The Contributors
This piece, which won 1st Prize in it's Class at the Bendigo Australian Sheep and Wool Show 2019, was made with contributions from the following beautiful animals:
K14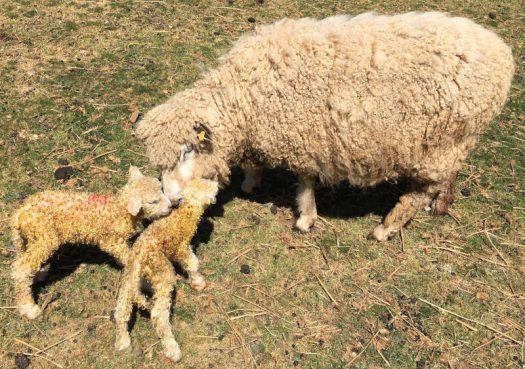 English Leicester ewe #K14 is an older girl, at nearly 6 years of age (in 2019) and with a 36 micron fleece. While she doesn't have the wool comfort factor, she still has the wow lustre typical of English Leicester, and holds nice curly locking.
14's 2018 fleece was chosen for this project for her good locking, and her story over the last few years.
In 2015, 14 had triplets, two ewe lambs and a tiny ram lamb. Her little boy rolled underneath her overnight and was smothered before he was even a day old. The two ewe lambs thrived.
2017 saw her deliver a stillborn near term ram lamb.
In 2018 she successfully delivered and raised two ewe lambs, pictured below only a few hours old. Minni and May, two happy little "Munchkins".
14 has been retired from breeding now, and can spend her twilight years growing lustrous, curly locks.
Tonga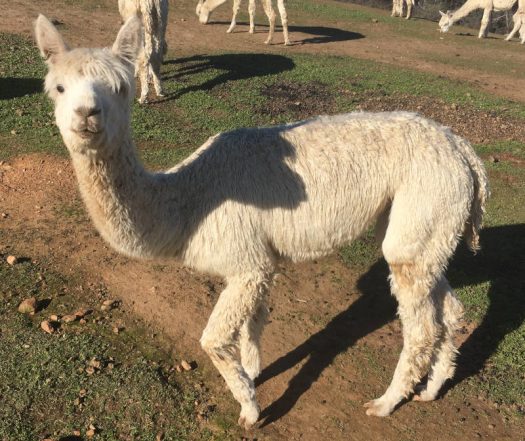 Tonga is a 4 year old suri alpaca. When she was 6 months old she lost her mom in a tragic paddock accident. Since then she has been plagued by a number of stress related health issues from ulcers and chronic weight loss to teeth problems that required a trip to the alpaca dentist! While her overall health and condition now is very good, and she has a lovely disposition, she suffers from sunlight induced mild seizures and will probably never be a mom herself.
Her 2018 fleece was very soft and fine at 19.4 micron. But it was also very matted and full of VM (vegetable matter). Alpacas love to roll around on the ground! The shearers didn't think her fleece was worth keeping. But we did.
Cleaning and carding her fleece was indeed a chore, and it is a bit on the fragile side, and it also makes the softest needle felted finish. Thank you sweet Tonga.
Jemanie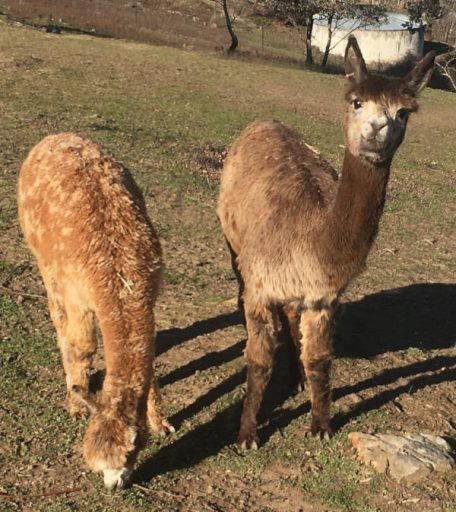 Jemanie is a rose grey suri alpaca. She is 4 years old, with a 22.3 micron fleece tested at last shearing.
She is also mom to a beautiful appaloosa daughter Maru. Maru's first fleece tested at 15.7 micron!
A small portion of Jemanie's 2018 fleece was chosen for the Rainbow Baby's hair, as the closest natural colour match from my herd. Her fleece is used washed, lightly combed and un-dyed.
The on-going dry conditions in south eastern Australia in 2019, combined with the hot summers, has been hard on the land and animals alike.
Many owners are hand feeding animals as pastures struggle to grow.
We could really do with a few more storms, and a few more rainbows.