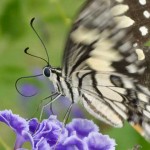 This Lime or Chequered Swallowtail (Papilio demoleus subsp. sthenelus) sighting was the first specimen we'd seen in this area. A very active butterfly it was loath to sit still long, and usually kept it's top wings fluttering ready for a quick escape.
It has a very distinctively marked body, continuing the black wing stripes down the thorax and abdomen. The inside of the wings displays a dense chequered pattern across the shoulders, and two distinctive spots on the outer margin of each hind wing – an upper one blue, often hidden by the top wing, and the lower more obvious spot a rusty orange.
Since the 100mm+ rainfall last week there has been a sudden increase in butterfly numbers and activity. The Tailed Emperors are here this year in great numbers on the figs, and are frequently seen chasing each other in pairs.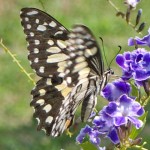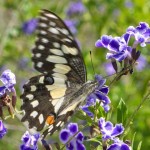 A chance sighting of this Lime Swallowtail was a delightful bonus. It was flitting between three of our Duranta repens 'Geisha Girl' bushes, feeding on the nectar alongside numerous Australian Blue Banded Bees.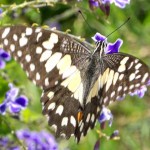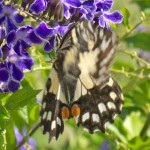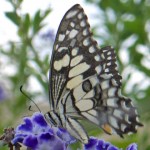 The numbers and variety of wildlife that are frequenting our small plantings are increasing each year. The Lime Swallowtail apparently uses various citrus as larvae food plants, so they have a lot of variety here to choose from now. This seems to be the common thread – provide food plants (nectar) for the butterflies, and larvae food plants for the butterflies to lay their eggs on, and they will come.
Further information on the Lime or Chequered Swallowtail can be found at http://lepidoptera.butterflyhouse.com.au/papi/demol.html