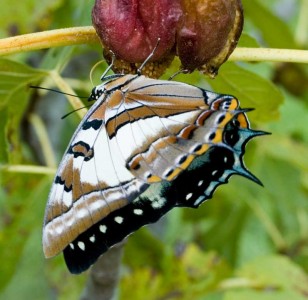 The beautiful Tailed Emperors are frequent summer visitors. They lay their eggs on our Kurrajongs and Illawarra Flame trees, growing into a spectacular and large caterpillar. Unfortunately every time we discovered one within reach this season we didn't have cameras with us, and when we did have cameras the caterpillars were no-where to be seen. Woohoo … managed to find a late season caterpillar. Photos below.
This year the butterflies have been attracted to the flowering figs. At least two different Tailed Emperors were photographed, each with slight differences in their wing markings.
The Tailed Emperor butterfly is fairly large, much larger than the Common Brown butterflies they fed beside on the figs. They are usually fairly flighty, however the sweet nectar produced by the over-ripe figs seemed to have a pacifying effect on all the butterflies that fed there, and they were very easy to approach and photograph.
---