The Waterhole was inspired by the beautiful Australian Gouldian Finch, and created as an entry in the 2017 Bendigo Australian Sheep and Wool Show where it won it's class.
It depicts a flock of Gouldian Finches descending on a waterhole, possibly their only source of water during a drought.
This piece is needle felted, wound, and in parts wet felted, entirely from English Leicester fleece.
The life sized birds are wound and felted over a copper wire armature, with polymer clay beaks and seed beads for eyes.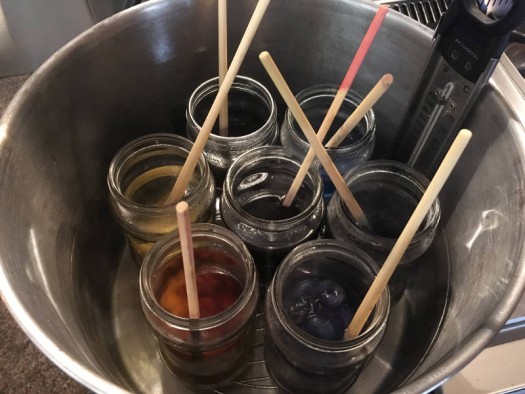 The scoured white locks from my own small foundation flock are hand dyed in lock form using acid dyes in colours to match the Gouldian's feathers. The dyed locks are hand carded as they are required during the needle felting process.
Locks of skin pink dyed fleece are drawn thinly and wound around the wire legs and feet. Then white, drum carded English Leicester fleece is wound around the body armature to which the coloured and baked polymer clay beak is firmly attached.
Once the body form is needle felted into shape, the colouring can be needle felted on. Birds in "flight" have wet felted wings needle felted to their body. Seed beads are attached to complete the eyes.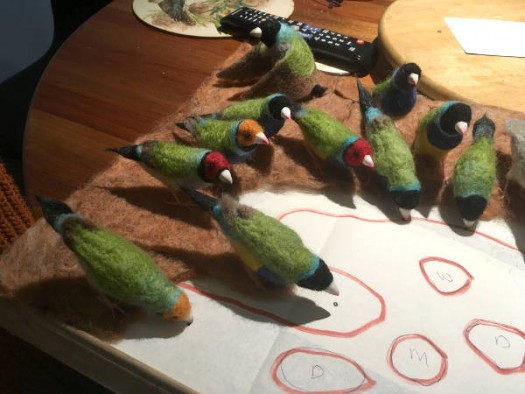 The waterhole base is wet felted below the "water" and dry felted above, using various felting techniques to for example embed stones, create the illusion of cracked mud and raise water-formed gullies.
The English Leicester breed of sheep is one of the "Strong Wool" heritage breeds in Australia, and are listed in the Australian Rare Sheep Breed Project as a rare breed. The fleece takes up coloured dyes so well the dry locks seem to glow. Even after carding and felting, English Leicester fleece retains the incredible lustre for which this breed is famous. A fitting match for a rainbow jewel that is the beautiful Gouldian Finch.