The last week has been pretty busy, not to mention the weekend.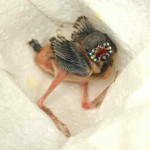 Amidst the Saturday morning aviary cleaning chores this baby Gouldian was found evicted from the nest. He/she was "stuck" to a sibling that had been some days dead, and was possibly thrown out of the nest in error. Past experience in returning baby Gouldians to their nests has not turned out well. One poor baby was thrown out and returned four times before I took him inside, by which time he was too badly injured from the evictions and chills to survive. So this little fellow came straight inside into the incubator/brooder.
Once he/she warmed up enough I managed to get it to take a small feed. The first 48 hours is the biggest hurdle.
"Gangles" as I called it as it seems to be all legs, is now feeding well, 3 to 4 times a day. There is no guarantee of survival thou, sometimes the parents "know" something is wrong with a youngster when they evict them. Hopefully Gangles was tossed by accident and he/she will do well.
Checking the Illawarra Flame trees on Saturday I found a second baby Tailed Emperor caterpillar, an adult Tailed Emperor butterlfy with age damaged wings resting on a leaf, and I *think* some Tailed Emperor eggs! Later that afternoon I saw two beautiful adult butterflies sunning themselves in the White Cedar trees. Caterpillar and egg photos have been added to the Tailed Emperor page.
Sunday we managed to thoroughly ruin the plans for world domination of three stands of blackberry, including digging up the rest of the clump by the buddleia. The long leather gloves again resisted most of the thorns (thanks Jean).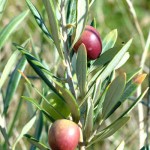 Also on Sunday I went to check on the first of the olive trees to set fruit and found they were colouring up! The olive trees were grown from cuttings taken during an Olive Enterprise Management course run by Wodonga TAFE. I decided to pick the fruit to give the tree a break – they'd been struggling through the drought and were only just starting to put a burst of growth on.
There was a nice sounding recipe in the course handbook, using up to a 30 day rinse, followed by 6 months immersion in red wine vinegar and salt, to which we might add some fresh bay leaves from our Bay tree, or Rosemary, or chilli …
This morning I downloaded a copy of the Gimp for OS X, something I'd been meaning to do for a long time. It's even nicer that it was before. All the familiar old filters are still there, plus some new ones. It recognises my D70 camera RAW files (whoo-hoo!!) and seems to do a nicer job with colour balance and exposure tweaking than Photoshop. The new photos in this post and on the Tailed Emperor images page were all processed with the Gimp.
The Gimp, for those who haven't heard of it, is an image manipulation program similar to Photoshop, but freely distributed. The Gimp is available for Unix, Linux, Mac OS X and windows.
I couldn't resist trying out some of my old favorite filters, and some new ones, after the Photoshop/Gimp RAW file test. Here are a couple of the images: